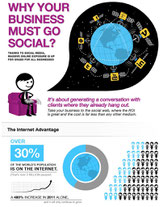 If your company is not using Social Media it is not a matter of should you, but rather how quickly can you start. Take a look at these numbers. 
80% of Americans or 245 million people use at least one social network. 
53% of people active on social networks follow at least one brand. 
48% of small businesses and entrepreneurs boosted sales using social media. 
58% of small businesses decreased marketing costs by using social media. 
Facebook users share 4 billion items every day. 
The folks at Wix have compiled these findings when coming up with their infographic 'Why Your Business Must Go Social.'