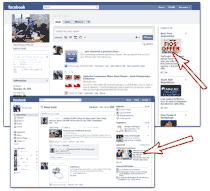 If you are thinking about advertising on Facebook it is worth your while to first understand some of the terms and measurement tools. Here are a few of the more important ones to know.

1. Reach and frequency:  Ads will be displayed on Facebook multiple times to the same user. The number of individual people who see your ad during a specific period is called reach. The average number of times each individual user sees your ad is frequency. After an individual is exposed to your ad many times its impact will most likely diminish.
2. Landing pages: This is the page that is displayed after a user clicks on your ad. You can decide which URL you want the person to go to once they click on your ad.
This can be anywhere inside Facebook or an outside domain, as long as it does not violate Facebook's terms and conditions.
3. Cost-per-click: If you decide to bid for clicks, then you'll only be charged only when a person actually clicks on your ad. You can determine the amount you are willing to pay for a click, the cost-per-click (CPC), starting as low as one penny per click. If you say that you are willing to pay a maximum of 75-cents for a click, then that is the most you will be charged for a click.
So actually, you are bidding on the ad space, against other unknown businesses. Initially, the higher your bid, the more likely your ad will be displayed. However, after a few thousand impressions, there are other factors that will have an impact on the cost of your ad. (we can provide additional information on this subject)
4. Click-through rates: This signifies how many impressions it takes, on average, before an individual clicks on your ad. Click-through rates (CTR) is the number of clicks divided by the number of impressions. For instance, if your ad had 1,000 total impressions and users have clicked on the ad 10 times, then your CTR is 1%.
5. Impressions: Each time an ad is displayed, a person could possibly be reading your. Facebook calls this an impression; it's a chance for someone to see your ad. For instance, if an ad has 1.5 million impressions, then the ad had 1.5 million chances to be seen.
However, this does not necessarily mean 1.5 million separate people have had the chance to see your ad. The estimated reach for this ad is 200,000, which is the number of Facebook users who meet the criteria that the advertiser has selected for people the advertiser wants to see the ad. If an ad has 1.5 million impressions but an estimated reach of 200,000 people, we know that, on average, each of those 200,000 people has had 7.5 opportunities to see the ad.
6. CPM (Cost per Thousand):  Another approach is to select to bid on impressions instead of clicks. In the Facebook interface you can pay to have your ad displayed 1,000 times, but your payment is due regardless of anyone clicking on your ad. You can still target your ad to a certain demographic.
When you are ready to start advertising on Facebook Leapfrawg can help you pick the most successful means to get the most for your advertising dollar.