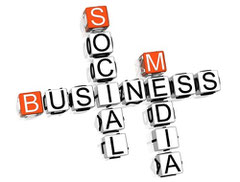 A couple of years ago the term 'New Media' was used a lot when talking generally about the emergence of Social Media.  Have you noticed the absence of that term these days?  Twitter started in 2006, Facebook first launched in 2004, and Linkedin 2003.  So these are not necessarily 'New Media' anymore.  Most companies now recognize Social Media as a growing force that is only building, and not going away.
Take a look at these statistics from the 2012 Social Media Marketing Industry Report:
Ninety-four percent of all companies with a marketing department used social media as a portion of their marketing platform;
Nearly 60 percent of marketers are devoting what amounts to a full work day to social media marketing development and maintenance;
Forty-three percent of people aged 20-29 spend more than 10 hours a week on social media sites;
Eighty-five of all companies that have a dedicated social media platform as part of their marketing strategy noted a gain in their market exposure, while 58 percent of businesses that have used social media marketing for more than three years stated seeing an increase in sales over that period.
These numbers probably help solidify importance of a solid social media effort by your company but many do not know where to start.  That is why services like Leapfrawg are becoming so popular.  Outsourcing some, or all, of a Social Media program leaves smaller companies the time to do what they do best...run their business.