Using Social Media Levels The Playing Field For Small Businesses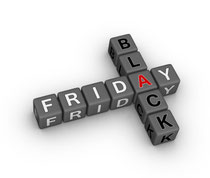 Sure, we all know that smaller online stores can have a big presence on the internet but what about small brick-and-mortar stores that have to compete with the big chains on Black Friday?  They too can use Social Media, along with other tactics, to help level the playing field against the likes of the Best Buys and WallMart's of the world. Here are a few ideas to consider:
You probabably know your customers better than the giants and can tailor a special deal that gets their attention.  Use your Facebook Fan Page and/or email list to spread the word.
This is maybe the time to try Social Media ads (Facebook, Yelp, etc..) that let you target an offer to your specific market. 
Use hastags (twitter, instagram, tumblr) that ride the trends of the Season thus calling more attention to your brand and shop.
Combine your physical shop with a digital shop.  Let customers shop online but with the convenience of being able to pick up their purchase at your local store.  The best of both worlds.
For a additional tips and check out Tim Parker's blog post '11 Black Friday Marketing Tips for Your Small Business'. For ideas on using Social Media more effectively contact LeapFrawg.com.
tagPlaceholder
Tags:
Small

,

Business