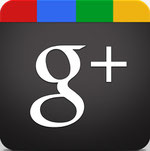 Google+ now has 343 million active users compared to a little under 300 million active users for Twitter and YouTube. But all have a ways to catch up with Facebook's 1 billion users.
Although many probably thought Google+ was just a blip on the radar and would go away, it seems highly unlikely that it will.  It has too many good things going for it.  Here are the main four reasons Google+ has, and will continue to be a force to be reckoned with in my opinion:
Users are active
Google+, unlike Twitter, encourages group discussions.
Communities are forming
There is a lot of excitement about the 'communities' being formed in Google+. The setting up and administration of a community is quick and easy.
Google+ has strong support from influential people
Within the communities you will find well known personalities who are active. Thomas Hawk, Ashton Kutcher, Guy Kawasaki and Sarah Hill, just to name a few.
Google+ is more useful
There are just so many different ways to use and interact with Google+. It has the regular postings, similar to Facebook, Communities, Hangouts, works within Gmail and the list goes on and on. There seems to be no limit to the different ways to approach using Google+ because the platform is designed to be flexible for almost any approach.